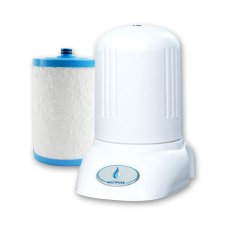 This designer countertop model offers the convenience of being able to connect to your existing faucet using a high-tech diverter valve. Filter life/capacity is approximately 750 gallons.
Make sure to insert our coupon code (424858-disc) during checkout to redeem your discount.
IMPORTANT: Your distributors name is Pat Connor. Please insert  this name into the How did you hear about us/ Comments? section during checkout. Thank you!
PRODUCT: FMAD -- $419.70
(MPAD unit and 5 replacement filter coupons, for more information click here)
We use a solid carbon block filter that is considered to be the most effective method for reducing a wide range of contaminants of health concern, which may be present in the water.  The carbon is compacted into a dense structure, causing every molecule of water to be forced through microscopic pores of carbon, effectively reducing pollutants.  The Solid Carbon Block Filter is a replaceable cartridge designed so that it can be easily changed.  Some additional advantages of the Solid Carbon Block Filter are that it does not waste water, there is no electricity required, it does not remove essential trace minerals that are beneficial to good health, it does not add salt or silver to the water; and it provides fresh, delicious, healthy drinking water.